---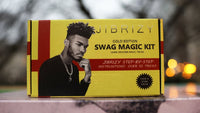 Sale
DEMO
Family Magic Kit
We believe that true magic is bringing people closer so...
that means family, friends and loved ones.

With this magic kit you'll be able to enjoy remediable moments with almost anyone

Benefits
Impress your friends and family and drop jaws no matter where you go! The first ever hip-hop inspired magic kit!
No longer is magic in a corny awkward light many magicians have put it in. Finally you can feel cool and be the life of the party with these 4 powerful proven magic trick the worlds been hiding from you!
What's Inside The Magic Kit
$1 TO $100 BILL TRICK AND TORN & RESTORED BILL TRICK
Take any one dollar bill and change it into a $100 bill easily without getting caught they'll never find the evidence.

(Bonus: Tear any bill and put it back together.)
Vanishing Silk

Vanish a red silk into thin air with you bare hands!
Disappear Deck & Deck To Money

You can seemingly vanish a deck of cards! And as a bonus you can also vanish the same deck of cards to money.
Melt a Pen Through a Bill
Take your pen and punch it through any bill and...
melt it straight through, leaving no holes or rips in the bill.
Teleportation Balls & Silk To Ball
With just two red ball you take one and place it in your hand. Squeeze it and it teleport to your audience members hand.
Next Turn a red silk into a red ball in front of you spectators face.
Ink Transfer Wallet 2 Trick in 1
Imagine having a spectator hold on to a card in a wallet face up. And when you pull the ink on the card jumps to your card visually!
THE NUMBER ONE TRICK!